Who are literature's worst monsters, but aren't actually all that bad? Who has a silver lining that we can look into? Who are the almost monsters of literature that are almost terrible but not quite?
Let's find out!
8-Vernon Dursley
Image Via Cat and Ellie's Bookcase – WordPress.com
At least Umbridge told Harry the truth! At least she told him that he shouldn't lie!
Not only did this pig in a human suit lie to Harry, but he abused him since he was a BABY. He's not even magical.
Objectively, of all the characters from the Harry Potter series, Vernon Dursley is just the worse. He's human, so we can judge him as much as we want, for keeping a baby in a closet under the stairs for ELEVEN YEARS. Voldemort had the decency to try and kill Harry, Umbridge at least spoke in a nice voice, but Vernon just yelled at him, smacked him around, lied about his parents, and threw him under a closet for ELEVEN YEARS.
To make matters worse, no one called the cops. At least Petunia kept the blanket Harry came in when he was a baby.
At least Umbridge told Harry the truth! At least she told him that he shouldn't lie!
Voldemort had the decency to try and kill Harry, Umbridge at least spoke in a nice voice, but this pig in a human suit just yelled at him, smacked him around, lied about his parents. At least Aunt Petunia kept the blanket Harry came in when he was a baby. Of all the characters in the Harry Potter series, he's not even magical, but he's certainly one of the worse.
OR IS HE?
Horcruxes can influence those around them and Voldemort made one out of Harry. Thus the Dursleys' dislike of him was exacerbated by Voldemort's magic.

Image Via Parade
Granted, J K Rowling said this:
James was amused by Vernon, and made the mistake of showing it. Vernon tried to patronise James, asking what car he drove. James described his racing broom.

Vernon supposed out loud that wizards had to live on unemployment benefit. James  explained about Gringotts, and the fortune his parents had saved there, in solid gold.

Vernon could not tell whether he was being made fun of or not, and grew angry. The evening ended with Vernon and Petunia storming out of the restaurant, while Lily burst into tears and James (a little ashamed of himself) promised to make things up with Vernon at the earliest opportunity.
Either way, Vernon might not be as bad we thought he is (though he's still pretty terrible)
7-Moby Dick
Image Via Public Radio International
The titular character from Moby Dick, at the end of the day, is a WHALE. It has no concept of good of evil, it's just a big whale.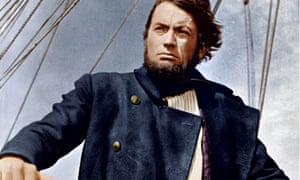 Image Via The Guardian
Captain Ahab is the rotten one here. Blame him, not the whale!
6-Alexandra Finch Hancock

Image Via To Kill A Mocking Bird.com
While not the worse character in To Kill a Mocking Bird (the real monster is Bob Ewell), Aunt Alexandra is a racist piece of crap. The formidable matriarch of the Finch family, Aunt Alexandra is the king of woman who wears a corset even under her bathrobe. Before she even comes onto the page, Scout compares her to Mount Everest: "throughout my early life, she was cold and there," but when she comes on the page she far exceeds our expectations of her.
Bossy, hyper-critical, Aunt Alexandra likes thinks done her way or the highway. Imagine the pressure poor Atticus is under when she targets him, taking umbrage with his client, Tom Robinson, noting that the case might endanger the Finch reputation.
She forgoes human decency because of the family. To her, "what is the best for the family" is more important than the family itself.
Aunt Alexandra, in underlining the moral of young Sam Merriweather's suicide, said it was caused by a morbid streak in the family. Let a sixteen-year-old girl giggle in the choir and Aunty would say, "It just goes to show you, all the Penfield women are flighty." Everybody in Maycomb, it seemed, had a Streak: a Drinking Streak, a Gambling Streak, a Mean Streak, a Funny Streak.
She's obsessed with family streaks, hinting that she believes that the Finches are destined to be superior. In a book about racism, the real reason Aunt Alexandra doesn't think Atticus should take the case are clear.
She also uses it to beat Scout over the head with.
Oh, yeah, Scout is in her line of sights as well. Scout is a tomboy, Aunt Alexandra is a proper lady, the pinnacle of the South. Thus, Alexandria sets to work trying to quash Scout's tomboyish tendencies and forge a new identity for her.
Aunt Alexandra's vision of my deportment involved playing with small stoves, tea sets, and wearing the Add-A-Pearl necklace she gave me when I was born; furthermore, I should be a ray of sunshine in my father's lonely life.
But it's not just racism, Aunt Alexandra is also a classist. When Scout wants to play with Walter, a poor boy, Aunt Alexandra:
…took off her glasses and stared at me. "I'll tell you why," she said. "Because—he—is—trash, that's why you can't play with him. I'll not have you around him, picking up his habits and learning Lord-knows-what."

Image Via PInterest
However, are we judging her too harshly? Is our picture of her incomplete?
After Tom is killed, family affection that looms largest for Aunt Alexandra, telling Miss Maudie:
"I can't say I approve of everything he does, Maudie, but he's my brother, and I just want to know when this will ever end. […] It tears him to pieces"
She's concerned for her brother, standing by him even when she disagrees with him. Make of that what you will, but at least she's not Bob Ewell, a man so terrible that I'll bet when Boo Radley killed him no one in town even batted an eye. Not even his daughters.
5-Grendel's Mother

Image Via ArtStation
Depending on your translation of Beowulf, she is either called Grendel's mother or Grendel's dam, but I'd liked to call her Mother-whose-son-had-his-arm-ripped off.
I think we can all sit down and agree that Grendel is a monster. He terrorized a village and Beowulf was in the right in defending the town against that monster, but Grendel's Mommy isn't that bad. Her son was returned to their cave mortally wounded, one of his two arms (or claws) ripped from its shoulder socket and now hanging in a mead-hall as a grotesque trophy.
Of course she's going to be mad. And you know what? Good for her for stealing her son's arm back. Why'd they even want it so bad?
Image Via PInterest
But Beowulf just had to come, invading her home, and decapitating her.
Her motive is human and, from her point-of-view, she's lived there over a hundred years and was never a problem. She just wanted her son's arm, but they just had to kill her because she was a monster. As Tyrion once said, "I wish I was the monster you think I am!"
4-Cholly Breedlove
Image Via Baakari Wilder
Pecola Beedlove, a young black girl, is routinely mocked by other children for her physical appearance. The only person to find her desirable is her father.
Cholly Breedlove makes this list. To make a long story short, he abuses his wife, he burns down his family home, and repeatedly rapes his own daughter.
But he's not quite the evilest character Toni Morrison has ever created. In his one and only appearance in The Bluest Eye, we learn quite enough about him that creates a picture of how abusive is cyclical.
Image Via Youtube
Abandoned in a junk heap as a baby, Cholly is taken in by two white men who force him to perform sexually for their amusement. When he finally meets his father, he shits his pants.
Thrown in a world where people abuse him, Cholly grows up into a man who doesn't care about life. He's free, but he cannot love or be loved. He does what he wants, uncaring for what happens him.
He rapes his daughter to remind himself that he is alive. He rapes her to feel the pain he felt as a child because that's all he knows. He's a monster made from monsters who tries to make his own daughter into a monster, all the time thinking 'monster' is synonymous with 'human.'
3-Jaime Lannister

Image Via A Wiki of Ice and Fire – Westeros
Kingslayer.
Oathbreaker.
Snobbish, rude, Jaime Lannister is in a relationship with his twin sister, Cersei, making three bastards that are set to become Kings and Queens themselves without the actual King Robert none the wiser. He even throws Bran out a window when he catches him having sex with his sister, crippling the boy.
But do I even need to explain why this character from George R R Martin's Song of Ice and Fire series just isn't as bad as he sounds?
At the age of fifteen Jaime become the Kingsguard to the Mad King, Aerys II Targaryen. He took an oath to defend the King no matter what, and he broke that oath.
Image Via PInterest
Yeah, he killed the king, but for two years he witnessed the Mad King's growing insanity and tendency for burning men alive first hand. One night after burning someone alive, Aerys visited the chambers of his wife and raped her. During this time, Jaime was outside, telling his fellow Kinsguard that they were sworn to protect the queen as well, to which he was told, "but not from him."
Later, during a rebellion, Aerys devised a plot to burn the entire city to the ground rather than lose it. Upon learning about this plan, the Hand to the King resigned and Aerys burned him alive. Jaime stood back.
When Aerys ordered the city to be burned, Jaime killed everyone involved, including the King, an action which saved the whole city and caused them to hate Jaime for breaking his oath. Even after he was pardoned, even Jon Snow, who "[knows] nothing," notes that "[t]hey called him the Lion of Lannister to his face and whispered 'Kingslayer' behind his back."
2-The Wicked Witch of the west
Image Via THe Vintage News
Don't judge a book by its cover, and don't judge a witch by their name. Plus, odds are this witch only chose the name because of the alliteration. Ignoring the film adaptation and the musical and book the musical is based on, the original Frank L Baum book introduced her only when some magician tells Dorothy to murder her.
Taking the film into consideration, however, the Wicked Witch is still sympathetic. Dorothy murdered her sister, dropping a house on her head, and then her sister's body disintegrated. The last thing the Witch has to remember her sister by is a pair of shoes, which Dorothy can't give her and Glinda refuses to take off her feet.
Image Via IMDB
Imagine if your sibling was murdered and the murderer had their prized heirloom on their feet, refusing to give it you because they didn't like you. And why doesn't Dorothy try to talk to the Witch? Is it because she's Green?
The Witch was in the right. She might not have gone about it the right way, but Dorothy is a murderer hanging out with a discount iron man, a scarecrow (don't give him any fear toxin), and a lion.
Plus, Wicked, both book and musical changed our minds about this Witch.
1-The Shark
Image Via Amazon
IT'S A SHARK! It has no concept of good of evil, just food and hunger. Both in the Peter Benchley novel and the Steven Spielberg film, it is a big hungry shark.

Image Via MovieFanFare
The mayor should have closed the beaches. Blame him (or the mob), not the shark.
Featured Image Via Decider