Today is National Bad Poetry Day, and since August is also Romance Awareness Month, we thought: why not share some of the worst love poems ever with you guys? Two birds, one stone, right? Let's go!
The Perfect Love Poem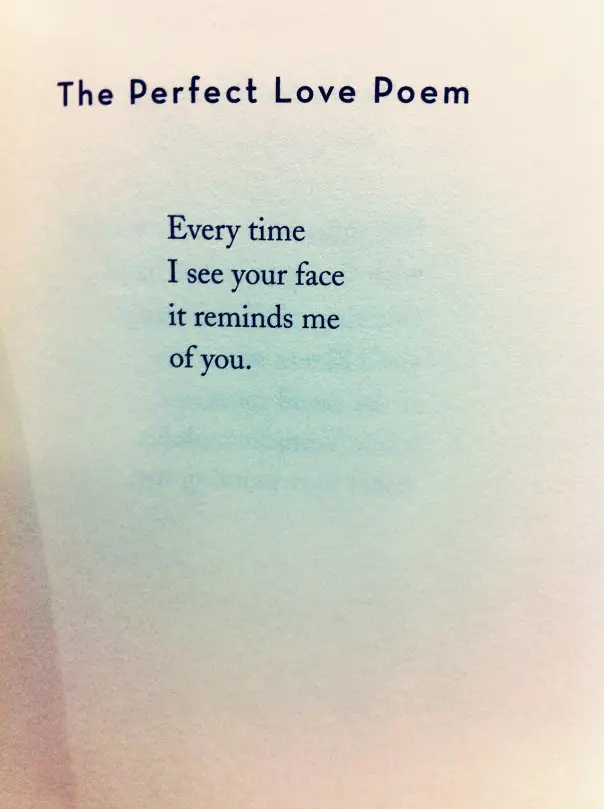 Every time
I see your face
it reminds me
of you
(Source: poemsearcher.com)
Cheesy Reality
It was nothing like the movies
No cheesy pick up line
No accidental touch of hands
Not even and intense gazing.
Yet no movie or book can describe it
The moment when you notice things;
First, the tone of his voice
Second, the nonsensical gestures he makes.
These may be stupid and odd
But in that moment when "two" friends seriously talk
And suddenly look into each other's eyes
Will you realize that shoot! You like him.
(Source: hellopoetry.com)
The Worst Love Sonnet Ever Written
If love be love be love, let love be love,
your kiss is like a strawberry meringue,
you are the hand and I your winter glove,
you are the song the singing singer sang.
Your eyes are like blue sapphires painted blue
that glitter like the stars of Bollywood,
you are the sausage on my barbecue
the only piggy part that's any good,
If I were Shakespeare with a heart shaped quill,
I'd write a sonnet, heart shaped, like a heart,
my heart would be a heart shaped daffodil
and Cupid's arrow be a heart shaped dart.
You are the sun in golden lingerie
the sunny sun that never goes away.
(Source: allpoetry.com)
Roses Are Red, Violets Are Blue
Flowers are green,
Chicken and Steak.
You're the hottest mistake
I've ever seen.
(Source: theodysseyonline.com)
Ode to Roxanne
Roses are red,
Your body is hot.
I'm big on romance.
Sadly, you're not.
(Source: allpoetry.com)
FEATURED IMAGE VIA CANVA
Special thanks to Katherine Russell from Editorial for helping pick out some of these gems!