Book Art Bookmarks are here to revolutionize your reading experience. They're the hottest, cutest, most beautiful creations around right now, created by booklover Margaux Mich. Created in January of 2018, BookArt Bookmarks has since gone from strength to strength with a popular Etsy store, selling over 10,000 of the unique and eye-catching bookmarks. "We are in five stores located throughout Wisconsin," Mich explains, "as well as at the Frick Museum in New York, Malaprop and the Baltimore Museum of Art. We have been fortunate enough to be involved in a few exciting monthly book boxes!"
We were lucky enough to sit down with Margaux Mich and chat about her booktastic product, the inspiration behind it, her advice for entrepreneurs and more!

Image via Bookart Bookmarks
As an avid reader, Margaux was fed up with one problem that all of us have struggled with – keeping your bookmarks in your books.
Bookstr: What started it all? What was your original inspiration to create Such beautiful bookmarks?
Margaux Mich: I remember the day perfectly. It was a day I was fed up with bookmarks not staying in my book. That weekend I went through three bookmarks I had just purchased, between the dog chewing them up and my kids stealing them. I had a notebook with an elastic band on my table. I thought to myself "why don't they make these for books?" I looked online for stretch bookmarks and found some that were for holding a pencil or made out of cloth, but nothing that fit my style. The idea to mix jewelry and bookmarks was created. 
B: Do you remember the first bookmark you made? Do you love it Now Or are you embarrassed by it? 
MM: The first bookmark is still my favorite. It is one of my best sellers and kind of represents the brand. Although the hardware is tweaked a bit, the design is still the same. There have been others where I looked back and thought "what was my inspiration for that Artmark?" It's interesting how our styles change over time. 
B: Do you have a favorite bookmark you've created? 
MM: My favorite Artmark is my first ever bookmark. It will always hold a place in my heart. The style matches me perfectly.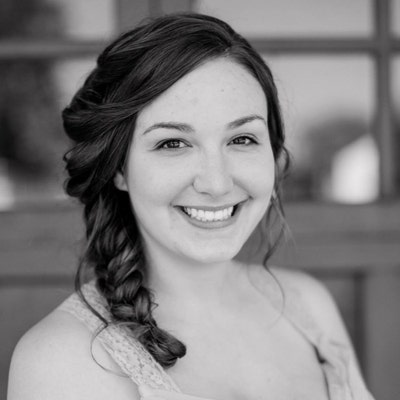 The Queen of Bookish Crafts Margaux Mich | Image via Book Art Bookmarks
B: Going back to the origins of your shop, did Book Art Bookmarks happen organically or did you plan for it to become a company?
MM: Book Art Bookmarks would not have happened if it wasn't for the incredible reading community. I shared my initial designs with fellow readers online and they encouraged me to make more and start my small Etsy shop.
B: Your Bookmarks are such beautiful works of art. What was your training? How did you learn to do what you do?
MM: I never had any formal jewelry training, but have always been creative. When I was eight years old I had a stand at a local Art Fair selling, you guessed it, bookmarks. They were quite different, but working with similar metals. I did not know I would be a creator, but I have always had it within me. 
B: where do you find your inspiration for creating each bookmark?
MM: I find inspiration everywhere. It often strikes when I'm not even trying. Nature to specific books. I wish I could share where I get them specifically, but it's truly a natural part of me I can't label. 
Image via Book Art Bookmarks
B: With so much diversity in your designs, Do you feel like different bookmarks suit different books?
MM: I love making Artmarks that fit specific books. I love to come up with different styles and designs that suit all the books I love. I have made geodes, skulls, crowns, to delicate antique pieces. I read all genres of books and want my business to reflect every reader out there. 
B: Do you take requests for new designs?
MM: I often take requests for different designs. I love the community's input. I have had several people ask me to create Artmarks for specific books they have read that I might not have heard of. It adds a personalization to my business. I get to know the fellow reader on a new level.  
B: You have several bookmark collections which fall under different themes like "Animal" and "Fantasy." Do you have any in mind that you'd like to do in future? 
MM: I am always finding different themes to build on. I have big plans for the future, but are not completed quite yet.
A couple more of Margaux's beautiful designs | Image via Mary Scibilia
B: As someone who loves books and reading, What are some of your favorite books, and who are some of your favorite authors?
MM: There are so many! I love authors that showcase the strength of women and their stories. Half Broke Horses by Jeannette Walls, Birth House by Ami McKay, The Red Tent, and Sarah J. Maas are my favorite books and authors. They portray the struggles of women and their stories so beautifully. I connect to their stories and writing.
B: Are there any other entrepreneurs who you look up to? 
MM: I tend to look up to "everyday women" and their stories; my grandma, my aunt, my mother in law. These women are so strong in different ways. I look up to their strength in knowing who they are, their ability to be so loving and kind, their sacrifices and their independence. Those are the kind of people I look up to. They work so hard to achieve their goals and they are all so different. 
Three of Margaux's Favorite Books | Images via Amazon
B: throughout your experience running Book Art Bookmarks, What is the best advice you've received?
MM: Trust myself. Use your creativity and show the world. It was hard for me to have the confidence to showcase my designs. I wasn't sure if people would like what I came up with. But the more I trusted myself the more people felt that confidence. 
B: What is some advice you have for other bookish entrepreneurs?
MM: Trust yourself. Put yourself out there. One of the biggest things I have learned is that worst that people can say is "no." Contact the people you think would help, work hard, and put your everything into it. Love what you do. You can only work so hard for something that you aren't passionate about. 
Following your creative passion is not easy. With the support Margaux received from the reading community and her own determination, Margaux found success with her stunning bookmarks.
With no formal training, it's incredible that Margaux creates everything handmade by herself in her Wisconsin home. It's thanks to her creative mind and her inspiration in everything around her that we have such beautifully unique bookmarks such as the Mr. Dinosaur Bookmark and the Metal Flower Bookmark. However, none of her wares have sold as well as her Magnifying Glass Bookmark.
The experience has been marvelous for Margaux, who said, sharing her elation, "I…opened an Etsy shop not knowing how it would go. I dove in and gave it my all…I never knew it could grow to this size. It has been an incredible journey." With the support and love of her family, Margaux Mich is making the women she looks up to, as well as everyone else around her, proud.
---
Don't miss your chance to win amazing Book Art Bookmarks of your very own by entering our fantastic giveaway!
Featured Image via Margaux Mich