Zombie Awareness Day officially runs runs every year from May 1st to May 31st because a number of notable zombie films are set in May, such as the classic George A. Romero zombie film, Night of the Living Dead, but seeing as the US Center for Disease Control promoted a Zombie Awareness Month in October of 2012, I saw Zombie Awareness month is any month I chose it to be. You should always be prepared.
And thus you should always have Max Brooks' The Zombie Survival Guide and his awesome-sauce books World War Z!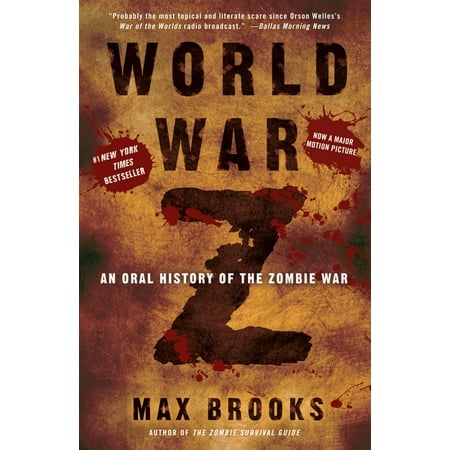 Image Via Walmart
All of this is a roundabout way of talking about World War Z even though there's no reason to. And why shouldn't I talk about that book? It's awesome. Made of interviews and testimonies, the novel FEELS real. What to know what a solider felt during the zombie Apocalypse? There's a passage (and in this audiobook, those sections are narrated by Mark Hamill). What to know what the President felt? Israel? Russia? Cuba? The fickin' pope!
Image Via Amazon
It's a great novel, and it's astounding why the heck the film adaptation was such garbage. Why wasn't this a Netflix series? Who looked at this book and went 'this could be a great two-hour plus movie'!
Well, the problem lies in the fact that the film adaptation rights were picked up before the novel was completed, probably because the title is cool (which it admittedly is).
In light of that fact, here are five others novels that had their film rights snatched before they hit shelves!
Image Via Amazon
The novel started as a short story inspired by the 2009 shooting of Oscar Grant, but even her professor knew that Angie Thomas was secretly writing a novel. After graduation, Thomas put the novel down because it was emotionally taxing, however:
When you hear politicians and others on television basically blaming somebody for their own death, when you see Trayvon Martin being put on trial more so than George Zimmerman, when you see Michael Brown being put on trial more so than the gentleman that killed him, you're seeing Tamir Rice, a 12-year-old child being blamed for his own death … you get angry and frustrated and hurt. And the only thing I knew how to do was write.
Further inspired by the killings of Alton Sterling, Philando Castile and Michael Brown, and widespread ensuing protests against racism and police brutality, Thomas titled the book after Tupac Shakur's "THUG LIFE" concept: "The Hate U Give Little Infants Fucks Everybody".
Come 2015, Thomas reached out to literary agent Brooks Sherman on Twitter in June 2015 to ask if anyone might be interested in this narrative about a girl's whose best friend is shot and killed by the police.
February 2016, Harper Collins' imprint Balzer + Bray outbid thirteen publishing houses and got the rights to the novel. Since everyone hates auctions, Harper Collins sighed a two-book deal with Thomas.
Image Via The Cut
Seeing the signs, Fox 2000 optioned the film rights the following month.
A year after Harper Collins bought the book rights, the book finally hit shelves on February 28th, 2017. After debuted at the top of The New York Times young adult (YA) best-seller list, and stayed there for more than eighty weeks. Once it sold more than 850,000 copies as of June 2018, Fox must have been rubbing their furry paws together.
Their adaptation got a limited release on October 5th, 2018 and wide release on October 19th, 2018, the same year book got nominated for the 2018 Carnegie Medal, was recognized in 2018 by the American Library Association with the William C. Morris Award for best debut book for teens, the Coretta Scott King Award for the best novel by an African-American author for children, and the Michael L. Printz Award for best novel for teens, and won the 2018 Deutscher Jugendliteraturpreis in the "young adult jury" section.
The film adaptation on Rotten Tomatoes an approval rating of 97% with an average rating of  8.12/10.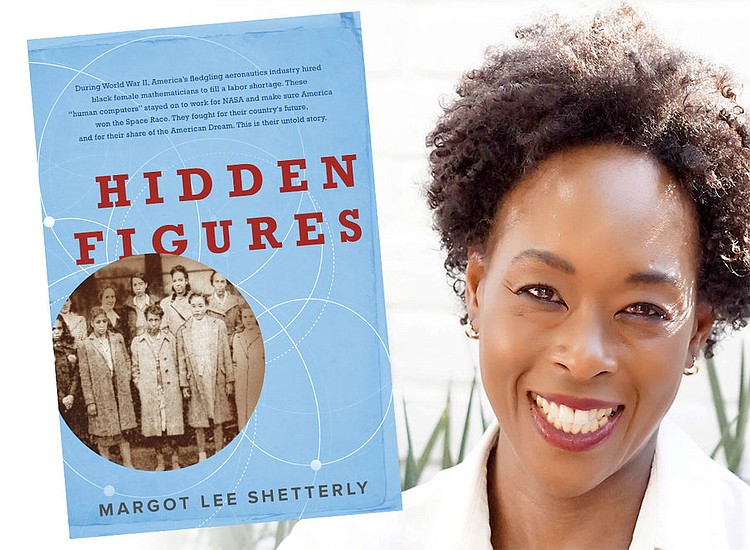 Image Via 
New York Amsterdam News
Hidden Figures is about three African-American women who worked as 'human computers' to solve problems for NASA from the 1930s to the 1960s because calling them 'women' was considered an insult.
So Shetterly is writing this novel. In fact, she's polishing the final draft when the film rights were sold to William Morrow in early 2014.
Come July 9th 2015, producer Donna Gigliotti had already acquired Margot Lee Shetterly's nonfiction book, Allison Schroeder wrote the script (so the book must have been completed at this point although it wouldn't be released until September 6th 2016), and Theodore Melfi was signed on to direct.
On February 17th, 2016, Fox had cast Henson to play the lead role of mathematician Katherine Goble Johnson, Spencer was selected to play Dorothy Vaughan, and by March they had Kevin Costner was cast in the film to play the fictional head of the space program, Singer Janelle Monáe signed on to play the third lead mathematician, Mary Jackson, and Kirsten Dunst, Glen Powell, and Mahershala Ali cast for various other roles.
Principal photography began in March 2016 on the campus of Morehouse College in Atlanta, Georgia.
Come September 6th 2016, the book is finally published.
Come December 25th 2016, the film was released and received a nomination for Best Picture at the 89th Academy Awards.
Image Via Vox
Author Margot Lee Shetterly said of the film:
For better or for worse, there is history, there is the book and then there's the movie. Timelines had to be conflated and [there were] composite characters, and for most people [who have seen the movie] have already taken that as the literal fact. … You might get the indication in the movie that these were the only people doing those jobs, when in reality we know they worked in teams, and those teams had other teams. There were sections, branches, divisions, and they all went up to a director. There were so many people required to make this happen. … It would be great for people to understand that there were so many more people. Even though Katherine Johnson, in this role, was a hero, there were so many others that were required to do other kinds of tests and checks to make [Glenn's] mission come to fruition. But I understand you can't make a movie with 300 characters. It is simply not possible.
3. Jaws by Peter Benchley
Image Via Amazon
Where would this list be without Jaws? Peter Benchley's debut novel with a weird title not only its film rights snatched before the book was written, but the filmmakers might be responsible for the book being a hit in the first place.
Let's back up. I already wrote an article (link here) how Peter Benchley was in the middle of writing the book when film producers Richard Zanuck and David Brown read the novel before it was even published thanks to buddies on the inside.
Long story short, Zanuck and Brown bought the film rights, got newbie Steven Spielberg on board, and were already in pre-production when the novel hit shelves.
Image Via Cinablend
Back to why filmmakers might be responsible for the book being a hit in the first place. John Baxter, in his biography of Steven Spielberg, claims that the novel's entry on California best-seller list was the result of Spielberg and the producers buying hundreds of copies of the novel to send to the press.
Peter Benchley disputes this. In his autobiography Benchley argues that the novel did exceptionally well in other parts of the country, noting that it was a New York Times bestseller for forty-four weeks, second only to Watership Down.
In 1975, a year after the novel was published, the film was released. It did well⁠—so well that it's responsible for creating the 'summer blockbuster'.
4. City on fire by garth risk hallberg
Garth Risk Hallberg is known for many things. He wrote city on fire, he has the best middle name in the business, he wrote City on Fire, he got a $2 million advance for City on Fire.
City on Fire is about how there was a shooting in Central Park that happened right on New Year's Eve during the 1970s. In case you're wondering, it's fiction. I too was disappointed to learn this.
It's an authors dream: Have a film producer snatch the film rights for your story, get a publishing house to buy your manuscript for $2 million, have the novel get released, have the film never get made.
Image Via Entertainment Weekly
Hollywood Reporter wrote that "Rudin and his camp read the book overnight and the producer, known for his literary tastes, used his discretionary fund to option it". This is probably what caused Knof to write Hallberg such a blood big check.
Upon release Kirkus Reviews called it "very-damn-good American novel". Other were much more unkind. The Guardian wrote "[t]here is prose in City on Fire as transporting as any you're likely to see in a book in the next 10 years" and said the characters are "uncannily alike", Publisher's Weekly wrote, "Readers wishing to wallow in cultural trivia will find much to savor in Hallberg's all-encompassing, occasionally overwritten effort, but others will be left to wonder how so much energy could generate so little light", and the New York Post called the novel a  "steaming pile of literary dung" and noted that "[t]he book-buying public isn't so easily swindled: "City on Fire" lingers at No. 825 on the Amazon sales charts. It can't even make it up the literary-fiction list, where it's marooned at No. 134."
As for the film adaptation? It doesn't exist…
City on Fire might not be a great book (i'd say based on the reviews it's probably very mixed), but a film adaption could have given it more of a spotlight.
Sadly,  World War Z is a great book but doesn't have a great film adaptation. Maybe that's a good thing, it means the book can stand on its own, but that fact makes me feel like crap. Can we get a limited series based on this written word masterpiece? Or, at the very least, can you tell me film adaptation whose rights were snatched before the book shelves that was worse than World War Z.
Hint: You can't. Don't believe me? Go and read World War Z.
Featured Image Via The Prince of The Universe | A Book by Alexandria Rosas – WordPress.com